Abraham Cruzvillegas was born in Mexico City in 1968; he lives and works in Paris and Mexico City. Cruzvillegas was raised in Colonia Ajusco, a district on the southern edge of Mexico City built by rural migrants in the 1960s. Precariously constructed on contingency and necessity, residents assembled houses using whatever available material, expanding them to meet ongoing needs. During his youth, Cruzvillegas assisted his father who painted landscapes and portraits, initiating his own interest in visual art. Cruzvillegas studied pedagogy at the National Autonomous University of Mexico, from 1985 to 1990. From 1987-1991, Cruzvillegas participated in Taller de los Viernes, a workshop led by Gabriel Orozco, with Damián Ortega, Gabriel Kuri and Jerónimo López, aka 'Dr Lacra'.
From an oeuvre which includes sculpture, painting, drawing, installation, and video, Cruzvillegas reveals a consistent engagement with the material world. Cruzvillegas has challenged traditional value systems within art production, namely through his inclusion of found and collected objects in his sculpture. Oftentimes, Cruzvillegas uses the process of installation and the physical architecture of a given space to reinforce the relational and interdependent organisation of his work. Installations typically involve the considered and spontaneous: wall paintings, discrete drawings and interactive sculptural assemblages adhere to Cruzvillegas' logic of the exhibition as a collective space for performative and educational activities. His paintings and drawings of various scales reveal a humour originally cultivated through his training as a political cartoonist; while his writing practice serves as a mode for self-analysis, blending history, criticism, and fiction through forms such as lyrics, song and long-form texts.
Cruzvillegas' long-standing interest in the political dimension of objects and places is developed in his ongoing series, autoconstrucción. The most extensive, Abraham Cruzvillegas: The Autoconstrucción Suites, was installed in 2013 at the Walker Art Center in Minneapolis, Minnesota. The appropriation of this term in relation to his practice describes an approach of inventive improvisation, implying change as an unstable constant resulting from the chaos of everyday life. The entropy, collapse and reconstitution that characterises this process is compatible with Cruzvillegas' experience living in Colonia Ajusco, where economic precarity instilled alternative survival strategies.
The evolving nature of autoconstrucción has developed further terminology and methodologies such as autodestrucción and autoconfusión. These research processes have led Cruzvillegas to question identity as a fixed status or concept, collaborating with friends and family to understand materials, communities, and landscapes in greater depth. Empty Lot, installed for the inaugural Hyundai Commission at Tate Modern, London, installed earth collected from 36 locations across Greater London, filling 240 triangular planters installed on two raised platforms in the Turbine Hall. Assisted by artificial lighting and regular watering, the seeds and spores in the reclaimed soil germinated and flowered. The resulting display was shaped by chance over design, sustaining Cruzvillegas' conviction that place and identity, whether personal or collective, remain unstable, mutable, and dependent on our sociality with others.
In 2012, Cruzvillegas was the 5th laureate of the Yanghyun Prize; in 2006 he received the Prix Altadis d' arts plastiques. He has exhibited widely internationally, with selected solo exhibitions including: The Ballad of etc., The Arts Club of Chicago, Chicago IL (2019); Hi, how are you, Gonzo?, The Contemporary Austin, Austin TX [Travelling to: Aspen Art Museum, Aspen CO] (2019); Autorreconstrucción: Social Tissue, Kunsthaus Zurich, Switzerland (2018); Sensory Spaces 12: Abraham Cruzvillegas, Museum Boijmans Van Beuningen, Rotterdam, Netherlands (2017); The Water Trilogy 2: Autodefensión Microtonal Obrera Campesina Estudiantil Metabolista Descalza, Ginza Maison Hermès: Le Forum, Tokyo (2017); Autoconstriction approximante vibrante rétroflexe, Carré d'Art, Nîmes, France (2016); Empty Lot, Tate Modern, London (2015); Autodestrucción 7: Deshaciendo el nudo, Museo de Arte de Lima, Peru (2015); Abraham Cruzvillegas: The Autoconstrucción Suites, Haus der Kunst, Munich, Germany (2014) and The Walker Art Center, Minneapolis, MN (2013); Self Builder's Groove, Final Project for DAAD Residency, Berlin, Germany (2011); The Magnificent Seven: Abraham Cruzvillegas, CCA Wattis Institute for Contemporary Arts, San Francisco CA (2009); Autoconstrucción: The Soundtrack, Centre for Contemporary Arts, Glasgow, Scotland (2008).
Cruzvillegas has also exhibited widely at multiple biennials including: Biennale d'Architecture d'Orléans. FRAC - Centre Val de Loire, Orleans, Francia (2019); Honolulu Biennial 2019: TO MAKE WRONG / RIGHT / NOW; 21st Biennale of Sydney, Australia (2018); X Bienal de Nicaragua - Fundación Ortíz Gurdián, Managua (2016); Sharjah Biennial 12, UAE (2015); 12 Bienal de la Habana, Cuba (2015); 9th Shanghai Biennale, China (2012); dOCUMENTA (13), Kassel, Germany (2012); 12. İstanbul Bienali, Turkey (2011); 6th SeMA Biennale Mediacity Seoul, South Korea (2010); 10 Bienal de la Habana, Cuba (2009); 54th Venice Biennial (2003).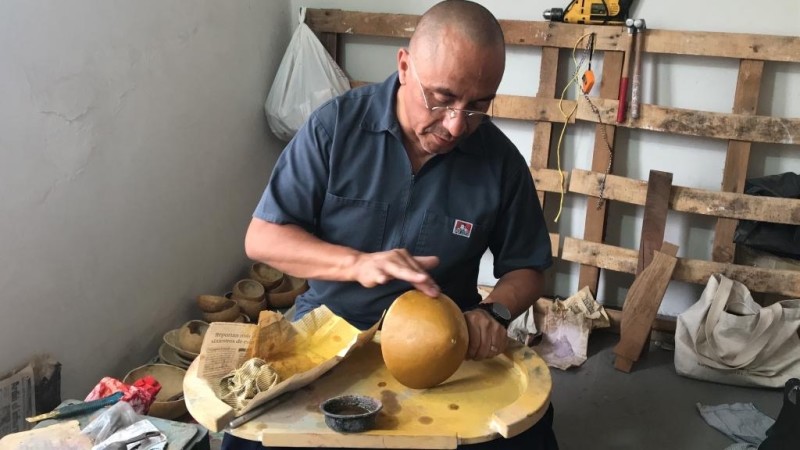 Photo: Haru Heshiki