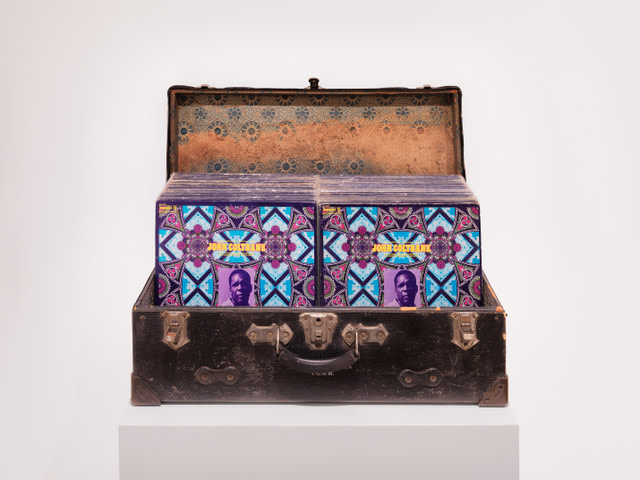 Terry Adkins
Infinity
,
1972 - 2014
cherokee trunk and John Coltrane "Infinity" albums
cherokee trunk and John Coltrane "Infinity" albums
50.8 x 67.3 x 34.3 cm.
20 x 26 1/2 x 13 1/2 in.
Infinity is the earliest dated work by Adkins, created between 1972 and 2014, the year of the artist's passing. The work comprises 75 copies of the album Infinity by the iconic Jazz saxophonist and composer John Coltrane, which was posthumously released in 1972, overseen by his wid- ow and musical collaborator Alice Coltrane. Adkins's assemblage work was initiated when the artist stole a copy of the record when he was 19 years old, and in penance for this act committed himself to collecting the album throughout his life. In this work, the records collected across four decades are held within a trunk from the Cherokee nation that Adkins discovered in Tennessee while he was an MFA student at the Fisk University in Nashville. The trunk bears repeating geometric patterns on its interior lining that echo the kaleidoscopic motifs of the album cover art and is presented in exhibitions on a custom plinth at hip height, as though the records are intended to be rifled through. This early work engages themes and methods that would become central to Adkins's later bodies of work, in particular the invocation of transgressive historical figures, the use of found objects, and the critique of the mechanics of value.